Our Preschool curriculum is centered around a different theme each week and our Toddler program focuses on monthly themes. Both programs learn an alphabet letter each week. Our program provides a flexible but regular schedule that includes sharing and conversation time, stories, songs and fingerplays; creative art activities and crafts; games and large muscle activities in our large indoor gym, free play; science and nature activities; and celebration of holidays and birthdays. The children enjoy presentations from special visitors (local storytellers, zoomobile, nature center etc).
We follow the guidelines recommended by the N.A.E.Y.C. regarding developmentally appropriate practices in our curriculum. Parents are informed of the activities through monthly calendars and newsletters. We use Shutterfly, an online resource. Parents can view monthly newsletters, calendars, song sheets, classroom photos and special events. We schedule a fall open house and a winter parent-teacher conference.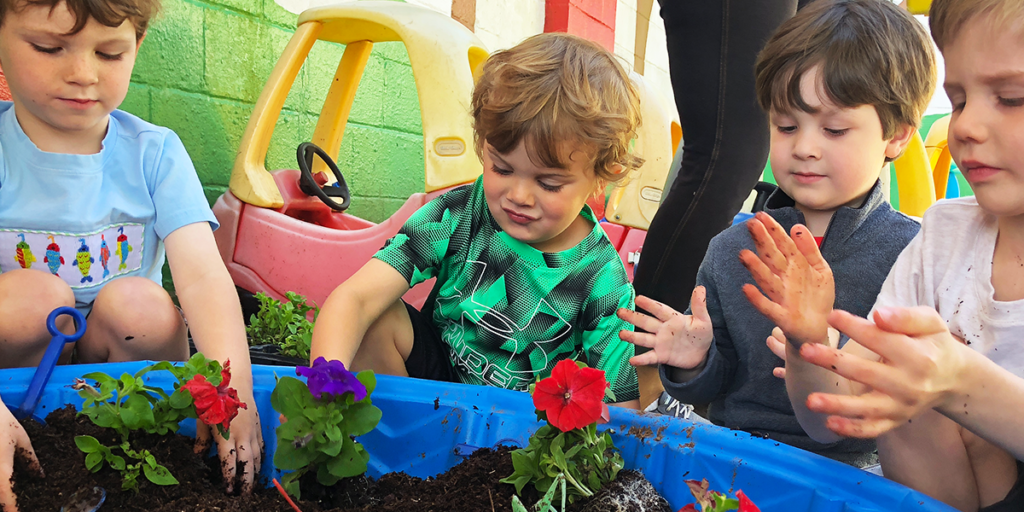 Our Three Year Old classes curriculum is based around Handwriting Without Tears "Get Set For School"  program. This is a play-based curriculum that offers a full pre-writing program and materials that build critical skills like early math and literacy. The Three Year old classes will also enjoy using Frog Street Press "Sing and Read" series, which brings joyful literacy instruction through their alphabet big books.  We use a developmental math program that involves "hands on" activities and the children do indeed "learn by doing".
Our Young Four Class uses Handwriting Without Tears "Kick Start Kindergarten" and "The Letter People" phonics program. Our Older Four curriculum is based around MacMilliam/McGraw-Hill "Beginning to Read, Write and Listen" program. Both of these workbooks bridge pre-k and kindergarten by introducing capital and lower case letter formation as well as pre-reading skills. Math time is spent engaging in "hands on" activities as well as working in our Evan Moor PreK Math workbooks.
The school is open from 7:30 am – 6:00 pm.
7:00 am – 9:00 am : EARLY CARE
9:00 am – 3:00 pm : SCHOOL PROGRAM
3:00 pm – 6:00 pm : LATE CARE
The programs we offer are: Pre-K 2, Pre-K 3 & Pre-K 4
Our additional programs include: Early Care, School Day, & Late Care
We offer Holiday Care to our students and siblings during our school holiday breaks. There are approximately 18 Holiday Care days offered during the school year.

The fees are $40.00 (7:30- 3:00) & $50.00 (7:30-6:00).
Children turn three during:
OLDER THREE CLASS: January-February-March
THREE YEAR OLD CLASS: April-May-June
MIDDLE THREE CLASS: July-August-September
YOUNG THREE: October-November-December 
The Three Year Old Classes are limited to an enrollment of 18 students.
The classes are taught by a lead teacher, assistant teacher and "floater" assistant teacher.
YOUNG FOUR CLASS: Children should turn four during the fall.
OLDER FOUR CLASS: Designed for children going on to Kindergarten the following year. 
The Pre school classes are limited to an enrollment of 20 students. 
The classes are taught by a lead teacher and assistant teacher and "floater" assistant teacher.